Silhouet Tone Vortex Peel 412357
Prices available to wholesalers only.
Vortex Peel
Designed to perform a high precision peeling, the Vortex Peel is a reference in the category of professional microdermabrasion devices. Its powerful motor combined to the Turbo Flow system allows to clear the epidermis of dead skin to reveal a younger looking, smoother skin. The treatment leaves the pores tightened, the wrinkles smoothed, and the skin bright. The dark spots are minimized for a more even complexion.
With a modern design, this high-end professional microdermabrasion device allows a powerful treatment in minutes. Equipped with an electronic system that is controlled by a high precision microprocessor, the Vortex Peel is easy to use and comes with our exclusive Turbo Flow system. This device is used with highly pure corundum crystal. The crystals are projected at a constant speed for a perfect finish. Strong and resistant, it's the perfect tool for all spas and beauty centers that are looking for a high end professional micro­dermabrasion device.
A resurfacing, effective and non-invasive treatment
to offer in your day spa.
Specifications of the Vortex Peel
Patented Turbo Flow Projection System: delivers safe procedures with the highest comfort.
Powerful motor functioning at high speed that delivers deep microdermabrasion.
40 pre-programmed parameters.
Uses corundum crystals, with high purity (99.24%) and uniform granulometry (120μ).
Disposable crystal canister that is easy to replace (400 g).
2 sizes of disposable tips for corundum microdermabrasion that are hygienic and safe.
2 HEPA filters + 2 internal filters.
Anti-static hoses to prevent blockages and malfunctions.
Soundproof casing.
Crystal Free System can be adapted to the device to optimize and expand treatment options.
Main features 
High-end, expandable, multi-treatment device owing to its complementary functions and power.
Easy to use, modern design.
High quality pump.
Canister is sealed until installed, no contact with air, reduces moisture and prevents blockages, no mess, no waste.
Accurate Microprocessor Controlled Drive System.
Designed and manufactured in North America with a high quality after-sale service.
The technology of medical-esthetic Microdermabrasion 
Turbo Flow Projection
The Turbo Flow system projects crystals evenly and securely in a vortex-shaped circular motion, all at a constant velocity, both linearly and in a straight line, causing no discomfort or irritation skin.
The most comfortable treatment on the market
Instant results with the Turbo Flow system
Total control of abrasion depth thanks to the patented rotary system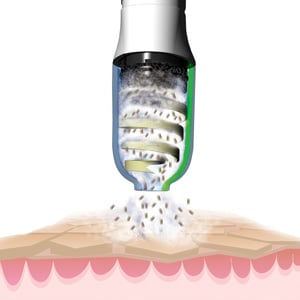 Treatment in action
Our trainer practices a microdermabrasion treatment using the traditional Vortex Peel handpiece.
Outstanding results and immediate effectiveness 
Desincrustation of the epidermal surface layer (stratum corneum) after one treatment with the Microdermabrasion Vortex peel device.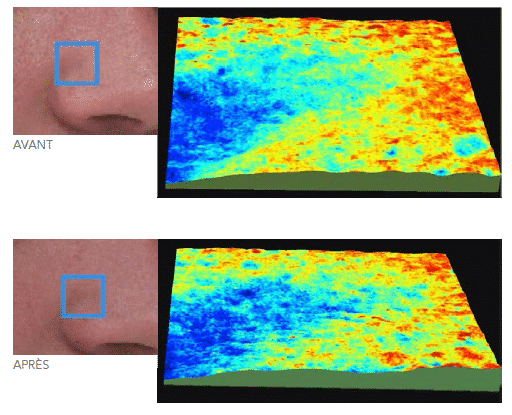 *Red = relief surface of the corneous layer of the epidermis (stratum corneum)
*Blue = skin depressions (pores)
*Yellow = intermediate zone
Microdermabrasion training
Our training will allow you to discover in depth a medical-aesthetic care essential to your institute.
Here is our lesson plan:
1-Advantages and benefits of the microdermabrasion device
2-Benefits of corundum
3-Theory
4-Technique and method of work
5-Treatment protocols in institute
6- Sales and Marketing Introduction
7-Establish a treatment schedule with clients
8- Practice
* Prerequisite: Diploma in aesthetics
* Duration: a full day
Why is the Vortex Peel essential to your day spa? 
Skin care professional benefits 
Good return on investment
Safe
Easy to use
Client benefits
Instant and visible results
Minimal downtime
Painless
Testimony

What matters most to me as an esthetician is to have aesthetic devices that can achieve superior results, so that it why the Vortex Peel is my indispensable and favorite device in my institute. I love this device thanks to the power of the engine and the quality of the exfoliation. The skin of my clients is fresher and radiant, after only one treatment! We can see visible and instant results. My customers love it, and that's why it's the most popular and best seller treatment in my day spa.
Julie, esthetician
Laval, Quebec, Canada